eTA Canada
AVE Canada, also known in English as eTA Canada (Electronic Travel Authorization) is an automated travel authorization system for travel to Canada. This electronic device was put in place in September 2016. There is a charge for this compulsory certificate to be obtained prior to your stay in Canada. It allows you to enter Canada without applying for a Canadian visa. The request for an eTA must be made online and before editing the boarding pass for Canada.
Entry restrictions due to the COVID-19 health crisis
The COVID 19 health crisis has caused border closures around the world. Canada and the United States also had restricted access to North American territory as of March 2020. The rules in force in 2021 have frequently changed depending on the evolution and spread of the virus. The United States has made the decision to reopen its borders to accept travelers holding an ESTA USA since November 8, 2021. Canada has strengthened entry into the territory since November 30, 2021, to understand the news in detail. COVID-19 vaccine entry rules to Canada you can read our updated article on COVID-19 / eTA Canada restrictions.
What is eTA Canada used for?
This electronic pre-trip document helps strengthen internal security for flights and maritime transport to Canada. As part of your eTA application for Canada, by providing your information before the flight, the system can then verify that you meet the criteria for acceptance on Canadian soil even before your arrival. Previously, this control was done directly at the border post.
This is a web-based questionnaire, the answers to which will determine whether or not you accept eTA. The questions are simple and sometimes surprising; they are intended to assure Canadian authorities that you have no connection with a terrorist organization, that you are not a criminal, etc. This questionnaire replaces the green form that was provided to you in time during the flight.
eTA easier to obtain than the visa
The usefulness of the eTA asserts itself for very specific trips: tourism, transit or a "business trip". When you go to Canada for one of these reasons, and the trip is limited to 6 months maximum, you can take advantage of a system that is simpler than the visa, thanks to the eTA. Not only does the travel authorization process only require a few clicks on the Internet, it will not require you to pay hundreds of dollars as is generally the case with a Canada visa. The eTA is the solution to travel easily and inexpensively to Canada.
Below is an illustration of a Canadian entry visa to the country.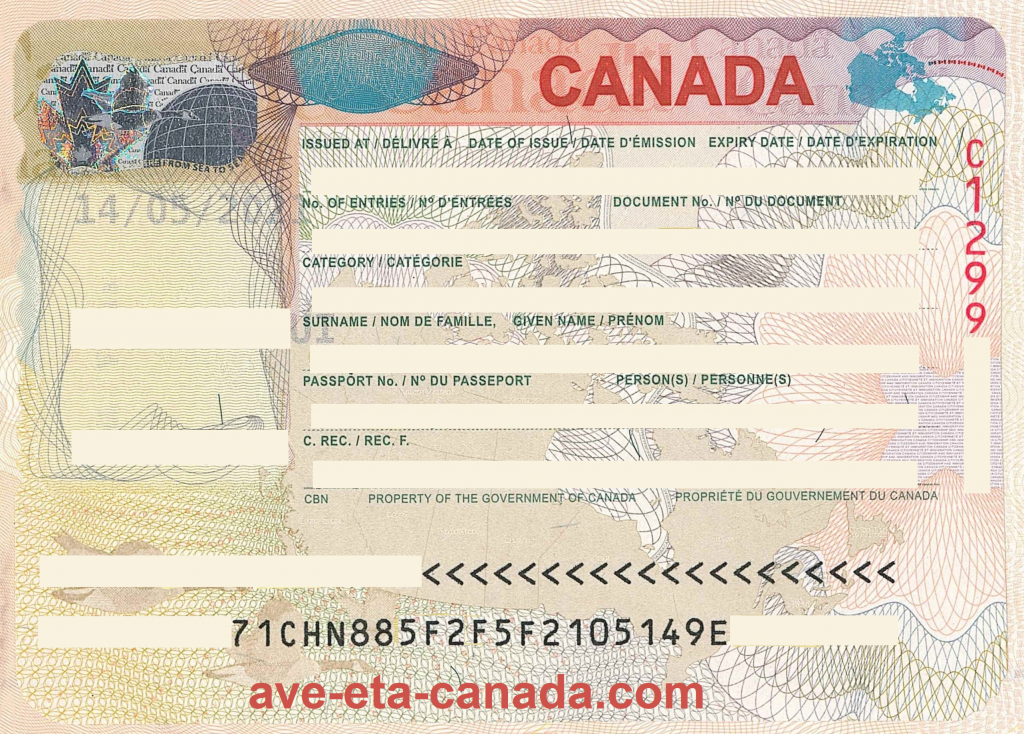 How to access the request form?
The form is easy to access. You complete your eTA application directly on the Internet and the processing is automatic. The answer (acceptance or refusal) is almost immediate, however it is recommended to make the request as soon as your trip is planned.
The registration site is in French and you will have support and assistance at all times. In addition, your contact details and receipt will be saved on the site, which can be useful in the event of loss.
ETA authorization at a glance
The eTA authorization is not a tangible document such as a passport. This is an answer that can be found on the Internet, via your account created when requesting eTA. When you submit the form online, the computer systems process your data as well as the answers to the questions, in order to determine whether your file validates the conditions of acceptance. Therefore, you should stay tuned and take the initiative yourself to visit the website to see the result of your query. If you get confirmation of your trip to Canada via an eTA, nothing prevents you from printing the message, but it is not mandatory. The Canadian authorities will be able to view your file directly on their computer tools.
Are there any benefits for travelers?
Yes, travelers benefit too since when they travel with an eTA they do not have to apply for a visa. However, certain conditions must be met. Indeed, you must be part of one of the countries that signed the visa waiver recognition (of which Europe is a part). You must stay a maximum of 6 months on Canadian territory; in addition, the purpose of the trip is restricted: transit, tourist or business stay. In addition, like many countries, Canada requires visitors to hold an electronic or biometric passport that is being validated. If you comply with all of these obligations, your trip to Canada should be successful thanks to the eTA. The price of the eTA (7 dollars) as well as its simplified online process present a real advantage for travelers wishing to travel to Canadian territory.
How long is this request valid?
After making your request, your residence permit can be used for five years or until your passport expires. on the other hand, your length of stay on Canadian territory must not exceed 6 months. You can come and go on Canadian territory several times until the 6 months have expired.
Is there a risk of eTA refusal?
Rest assured, almost every request results in a positive response. Travel authorization refusals can be explained by data entry errors, and of course non-compliance with the conditions of the authorization (too long stay, expired passport, etc.). If you correspond to the few obligations of the program, there is no doubt that your stay in Canada can be done via an eTA. Take the time to verify your data before validating the sending of the form, a typo can easily slip in. In case of refusal, you will have to wait 10 days before being able to submit a new request.
Changes following the COVID-19 health crisis
Canada regulates entry into its territory according to rules specific to the spread of the COVID-19 virus. Travelers must use ArriveCAN to prepare for entry into Canada.